When was the last time you saw a Yugo? Well, friends of mine recently posted a couple of photos of one in Pennsylvania.....
Yugo in the wild. Pennsylvania 2020. Photo credit Isaac Rodriguez
Yugo in the wild 2020 Pennsylvania. Photo credit Isaac Rodriguez.
Just what is a Yugo and why don't we remember them? The Yugo GV was manufactured in Serbian
city of Kragujevac

and introduced to North America by Malcolm Bricklin. The year was 1985 and Bricklin was having a rough go with the
Pininfarina Spiders and Bertone X1/9s he was importing and needed a product to bolster his business.
This subcompact two door hatchback hit the market with an MSRP of just under $4000.00. To put this price in perspective, an '85 Honda Civic could be had for around $5600.00, a Mazda GLC for just under $5400.00 and a Ford Escort for about $6200.00 (all base level models in the range). The Ford Festiva, our favorite, came on the market in 1988 with a price of about $5700.00 when the Yugo had only increased to just over $4500.00.
This low price attracted quite a lot of interest with some dealerships experiencing lineups at their doors when it first became available. Sales ramped up over the first couple of years peaking at 48,812 units sold in 1987. From there, sale plummeted to only 1412 units in 1992, the last year it was available in North America. A total number of 141,651 were sold over its seven year life span.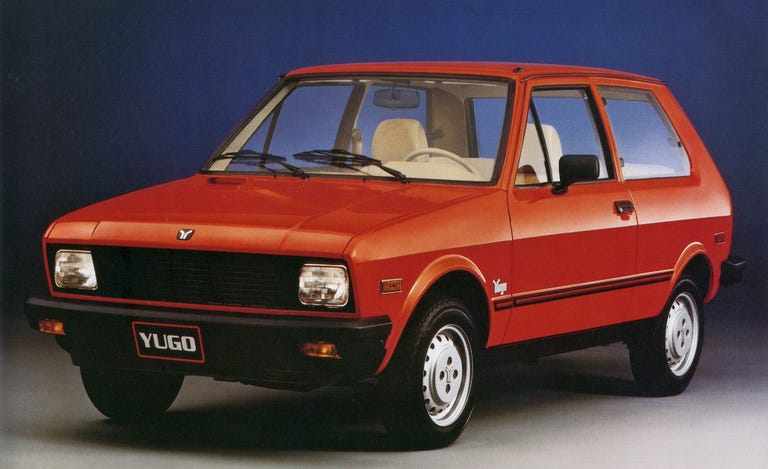 From the Car and Driver article linked below...
There was actually a convertible version of the Yugo named the Cabrio! Only about 100 were imported to North America (could be only US, not sure if that number includes Canada) and at least one survives! This photo was posted on Instagram recently by @
classiccars_and_whiskey and he allowed me to post it here. It's not in the greatest of shape but it is still on the road!
Yugo Cabrio. Thanks to @classiccars_and_whiskey for the photo.
It didn't take long for the Yugo's true colors to come to the fore and automotive journalists weren't overly kind.
Car and Driver magazine's then technical director, Csaba Csere, writing, "It's obvious to me that the Yugo GV is inferior to every other car sold in America." There were issues with reliability, it performed poorly in crash tests, and it's fuel consumption was high, and it was slow. It also became the butt of a lot of jokes. One I remember is a standup comedian asking his audience if the speed limit had been reduced from the current 55mph as he had just seen a radar detector in a Yugo!
If you'd like to find out more about the Yugo here are a couple of articles and videos:
I'd like to leave you with this comment left by a reader of this blog a few years ago... "
My wife and I used to put our 4 kids in the back seat of a 1986 Yugo. Squished 'em in like Sardines. It was great 'cause they couldn't move to fight."
Do you have any Yugo stories? We'd love to hear them... post them up in the comments section below. Thanks to Isaac Rodriguez for sharing the first couple of photos and to @classiccars_and_whiskey for the Cabrio photo.